Talking Screens, A Week In Chicago Film, March 25-31, 2022:
Whether it's the build-up to Oscars week, a tradition from years past where Oscar wins could keep a movie in theaters for weeks or months later, or a universal fear of match Paramount's retread of Kathleen Turner and Michael Douglas starring "Romancing the Stone" (1984), "The lost city", this time with Channing Tatum ("Dog"), Daniel Radcliffe ("Swiss Army Man") and Netflix drama star Sandra Bullock. While an Oscar weekend re-release of "Parallel mothers" on the big screen at the Landmark Century or River East is nice, it is not the kind of event to end the drought of the kind of films that could keep regular moviegoers in the habit of haunting the multiplex.
Will "The Sing 2 Sing Along Experience" be the thing, however? Universal informs that "The Sing 2 Sing-Along Experience" will include lyrics to "more than twenty of the biggest hits featured in the film, including 'Girl on Fire,' 'There's Nothing Holding Me Back,'" Let's Go Crazy", ' "She Bangs", and U2's "Where The Streets Have No Name" and "I Still Haven't Found What I'm Looking For".
OPENERS
"Writing with fire", one of this year's Oscar nominees for Best Documentary, opens at the Music Box for only three screenings, including Saturday and Sunday mornings. Rintu Thomas and Sushmit Ghosh's Hindi film follows journalists from Khabar Lahariya ("Waves of News"), India's only female-run media outlet from the Dalit caste, as the newspaper transitions to digital production. The Academy may have viewed the moving testimony to be witnessed as an underdog story; Yet Thomas and Ghosh's cinema has a vital density that is not often recognized by this group. The rise and fall of individual women within the group are richly detailed and skillfully depicted. "Writing With Fire" plays many roles, but mostly as a taut tapestry of resistance, and even triumph, against all odds over centuries of oppression and the continued cost of a rigid patriarchy imposed on a vast nation. Music Box, March 25-27.
Naomi Watts is the lead of "Infinite Storm", about an experienced mountaineer who returns from a blizzard while climbing Mount Washington, New Hampshire, only to discover a stranded man that she must descend from the mountain before nightfall. Co-directed by the great eccentric Polish director Malgorzata Szumowska and Michal Englert. River East, Regal City North and outlying theaters. Big Budget Hindi Entry"RRR: Rise, Roar, Revolt», an action drama by director SS Rajamouli ("Baahubali") opens, following the rebellion of Indian soldiers against the British occupation. River East, Webster Place, Regal City North and outlying theatres.
HOLDOVERS
The Jim Farrell Award winner"The torchcontinues at Siskel through the end of the month, a portrait of legendary Chicago bluesman Buddy Guy at the age of eighty-three.
CHICAGO SEEN
Jane Campion's early shorts are played under the generic title "A Girl's Own Storyat Chicago Filmmakers, notably "An Exercise In Discipline: Peel" (1982); "Passionless Moments" (1983); "A Girl's Own Story" (1984); "After Hours" (1984) and "The Audition" (199o). "Campion encouraged themes and motifs that would punctuate her work in the short films she made during and immediately after her time at the Australian Film Television and Radio School. From the tension evoked by a fruit peel to the not-so-clear dilemma of workplace harassment, these films form the basis of a prodigious body of work," writes Filmmakers. Chicago Filmmakers Firehouse Cinema, Saturday, March 26 at 7 p.m. $10 tickets here.
Chicago filmmaker Joe Swanberg continues his side gig as a film exhibitor and distributor, hosting filmmaker Gillian Horvat for a free screening with Q&A after his Analog label's first VHS release of his 2021 dark comedy, "I blame societyabout a filmmaker who turns to murder after too much rejection. "The first edition of this release is limited to fifty hand-numbered copies available for $20 cash." Friday, March 25, 8 p.m. 2118 West Lawrence, VHS goes on sale at 7 p.m. when the store opens. It's also hosting the first of two final "Secret Saturday" screenings the following night, March 26, at the Davis Theater of a 2022 Sundance film that won't hit theaters until July. Doors 7 p.m., movie 8 p.m. Tickets, which include a draft beer or cider, are here.
COPY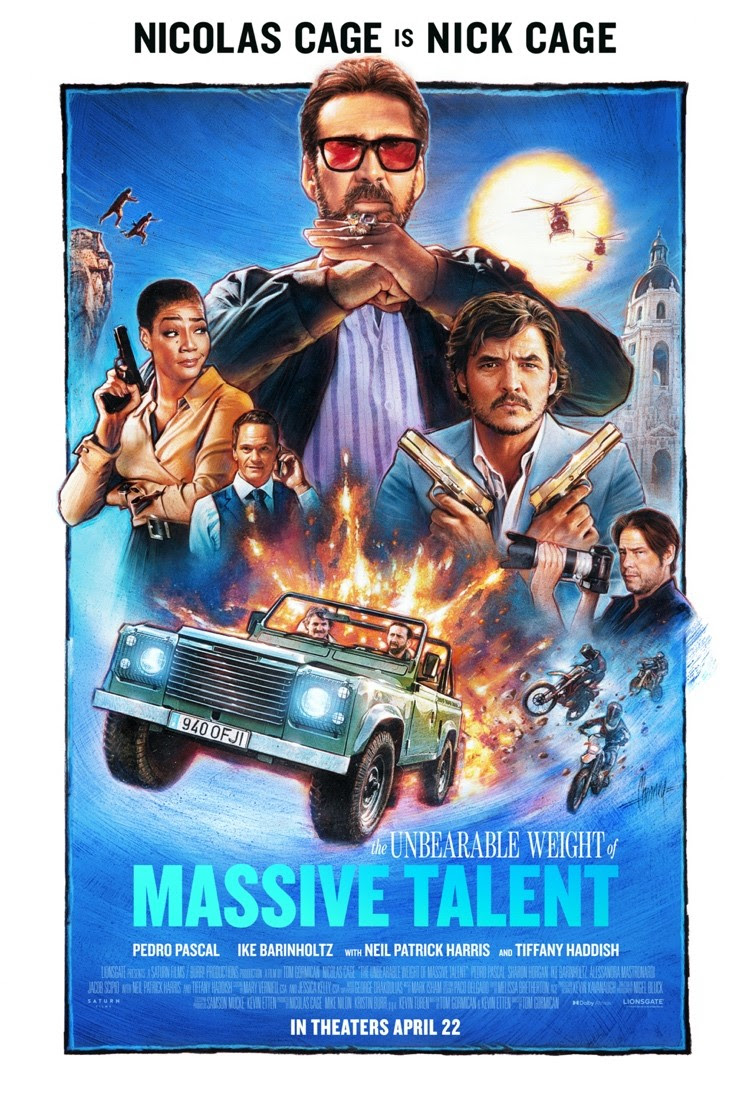 Nicolas Cage covers the April issue of GQ, in anticipation of his latest film, "The Unbearable Weight of Massive Talent". Gabriella Paiella's profile is an endearing outing, and Cage speaks of productivity and passion: "What followed her father's death and financial ruin was a decade-long odyssey to make as many movies as possible with the as much money as possible to pay his debts. … Cage has appeared in forty-six films, an experience he likens to "a treadmill". … Cage is pragmatic when recounting how he went from headlining blockbusters to going straight to VOD. "The phone has stopped ringing," he said. 'It was like, 'What do you mean we don't do 'National Treasure 3'? It's been fourteen years. Why not?' I have all these creditors and the IRS and I'm spending $20,000 a month trying to keep my mom out of a mental institution, and I can't…' Cage was adamant that ' he would never file for bankruptcy, even when people kept telling him to push that button."When I was doing four films a year, back to back, I still had to find something in them to be able to give my all They didn't work, all of them. Some of them were great, like "Mandy,'" but some of them didn't work. But I never phoned. So if there was a misconception, that was it. That I was just doing this and didn't care. I has been kindness.'"